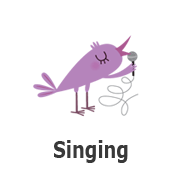 Singing Activities
Visit The West Bloomfield Township Public Library to find books based on songs (e.g There Was an Old Lady Who Swallowed a Fly, Itsy Bitsy Spider or Old McDonald). Sing these books and notice if the books are the same as the classic songs.
Download music from the hoopla app to your device and have a dance party. Dancing builds coordination, agility, flexibility as well as boosts confidence and problem-solving skills. It can also help children learn how to move their bodies to different types of music, which encourages music appreciation.
Sing a song with a tempo that you can speed up or slow down such as Head, Shoulders, Knees and Toes. Start off at a slower pace, then a little faster and the fastest you can sing at the end. It's a great way to use coordination skills, but also keep a beat and tempo as you sing at a faster pace.