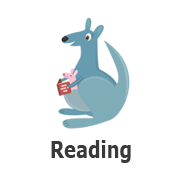 Reading Activities
Toddlers need to move, so don't worry if they act out stories or just skip, romp, or tumble as you read to them. They may be moving, but they are listening. Use different voices as you read to make the book more interesting.
Take your toddler to the library. Attend one of our many classes for Youth Programs and then have them pick out their own books. This will provide a great experience and a fun day out!
Read favorite stories repeatedly. Seek out books about things your toddler especially likes such as trains, dinosaurs, trucks, princesses or animals. These books may extend a toddler's attention span and build enthusiasm for reading. Ask a librarian for help finding books about your toddler's interests.