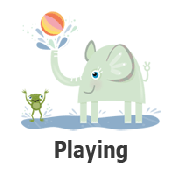 Playing Activities
It's important to have your toddler feel independent and confident about himself. Send your toddler on different errands or tasks around the house, asking him to find his shoes, bring you the ball, clean up the playroom or put his cup on the counter. Besides letting him practice his receptive language skills by following directions, this activity lets him show you how much he can accomplish by himself.
Sensory play is so important for young children. Sand, playdough, slime, mud, or water play are great activities for your child. Messy play is good so your child can learn to dig, pour, scoop, and more. Play along with them as well as encouraging play, oral language and narrate what they are doing. This gives your toddler exposure to great sensory activities but also new words and concepts like full/empty, soft/hard, etc.
Go outside! The outdoors provide a world of playing opportunities and learning experiences. Children learn from hands-on experiences and the outdoors can provide those experiences. Go on a nature walk and talk about what you see. Walk the dog or go for a bike ride. The possibilities are endless.