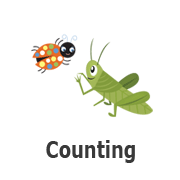 Counting Activities
Toddlers love to count. Use tangible objects such as their fingers, toes, snacks or toys to make it more fun and relatable.
Have fun while you count. Count how many times you can count jumping to the mailbox. Count how many stairs or doors you have in your house. This is a great way for your child to recognize numbers in everyday life.
Talk about the timeline of your day. This promotes the concept of sequencing. "First, first we will eat breakfast, then we will clean up, next we will take a bath and then play with the blocks." This promotes oral language as well as sequencing with ordinal numbers.