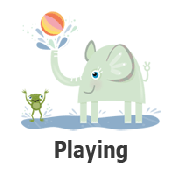 Playing Activities
Play outside! Playing outdoors increases vocabulary, self-awareness, imaginative play, and creativity. Go for a family bike ride, walk the dog, or go to the park. Playing outside daily is a great way for a preschool aged child to learn social skills as well as increase educational abilities.
While running errands in the car, play "I-Spy." Start off simple, "I spy something red." The better your child becomes at the game, they can spy things, but you can also make it more challenging. "I spy something that starts with the letter M."
Playdough is a great learning tool; there are many homemade playdough recipes online using everyday household items. Playdough is great for fine motor skills such as cutting, pressing, rolling and creating small items with their fingers. You can use trays, plastic knives, cookie cutters, popsicle sticks, googly eyes, chenille sticks, a garlic press, small plastic toys and rolling pins. These hands-on activities are all great for fine motor skills and creativity.