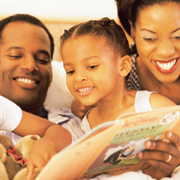 Articles
Parents are a child's first teacher. Take a look at the articles to keep up to date on the latest research which promotes educational success.
You can also
search the Library's databases
.
Amy Joyce
Why it's important to read aloud with your kids, and how to make it count
Anne Schwartzberg
7 Reading Tips for Parents
Claire Gagne
How to raise a reader
Erin Zammett Ruddy
18 Genius Ways to Make Kids Love Reading
Johnson, Sharlene from Parents Magazine
How to Raise a Reader
Kim Nassoiy, UCF Forum columnist
Want Preschoolers To Become Successful? Allow Them To Play More
Laser, Andrea
Tuning Out to Tune In: How Time Outside Can Improve Readiness to Learn Inside
Naeyc.org
10 Things Every Parent Should Know about Play
Naeyc.org
Playdough Power
Naeyc.org
Read Anything and Everything to Your Child
Naeyc.org
Reinforcing Language Skills
Naeyc.org
Support Writing at Home
Naeyc.org
Wiggling, Giggling, and Moving from Head to Toe: Books to Encourage Exercise
Parents.com
The Benefits of Reading to your Newborn
Paul, Pamela and Russo, Maria
How to Raise a Reader
Perri Klass, M.D.
Reading Aloud to Young Children Has Benefits for Behavior and Attention
Reading Rockets
Wordless picture books
Reading Rockets
Making predictions
Reading Rockets
10 Things You Can Do to Raise a Reader
Reading Tips for Parents (PBS)
Sarah S. MacLaughlin and Rebecca Parlakian
Read Early and Often (May 12, 2017)
www.zerotothree.org
Scholastic
20 Ways to Boost your Baby's Brain Power
www.scholastic.com
Square Space
Child Development Chart
www.squarespace.com
Square Space
Learn and Grow Activities
www.squarespace.com
Zero to Three
5 Ways to Raise a Reader... Starting from Birth (Aug 4, 2016)
www.zerotothree.org
What makes a good toy?
Your guide to age appropriate toys
Good Toys for Young Children by Age and Stage
Toy Buying Tips for Babies & Young Children: AAP Report Explained
Toy Recalls
Tips for Choosing Toys for Toddlers