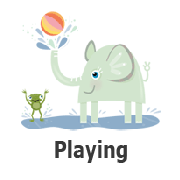 August
What reading experts say:
Expose your child to a wide variety of books and authors. Reading and discussing different types of literature - such as fantasy, folktales, poetry and nonfiction - promotes cognitive development in your child, according to an Education Resources Information Center Digest publication entitled "Helping Children Understand Literary Genres." Reading widely gives children an opportunity to identify similarities and differences between genres and authors.
When children become familiar with the features of different types of writing, they will know what to expect from different types of reading materials.
What good readers know:
Good readers certainly have favorite books and will read them often. Good readers are excited about all books and are receptive to reading a diverse selection of titles: nonfiction, fantasy, realistic stories and funny stories. Good readers like to choose their own titles but also ask librarians for new and interesting books during their visits to the library.
What parents can do to help children Grow Up Reading™:
Week 1:
Visit the library and check out a variety of new books. Have your child identify as many letters as they know as you read the book. Does your child know all her letters? Can your child spell his name and other simple words? You're almost done counting the days until kindergarten. Pick up your complimentary book at the Main Library or Westacres Branch and celebrate!
Week 2:
Read five books from the "Playing" booklist.
Week 3:
Use paper, pencils, crayons and markers, and other items around the house to "play" school.
Week 4:
Count the number of days until kindergarten begins. Mark off each day and count down to the first day of school.
Activities - Playing:
Exploring maps can be a lot of fun. Look at paper maps of the state, county or country. Have your child create a simple map on paper that includes your house, street and a few familiar objects around where you live.
Get outside! Go for a nature walk and see if you can spot three different types of animals (for example dogs, squirrels, cats, birds etc.) When you get home, have your child draw the animals they saw, they can practice writing the animal names as well.
More Great Books to Read(click on a title to check for availability at the Library)