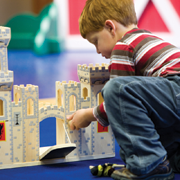 Tips To Read Aloud
Before you begin reading a book
, say the title of the book, the name of the author and illustrator. Look at the cover illustration and have your child predict what will happen in the story.
Make reading interactive. As you read
:
Ask what your child thinks is going to happen next.
Point out new information: "I didn't know that bats liked mangos." (From Stellaluna by Janell Cannon)
Relate your child's experience to action in the book: "What have we seen bats around our house eat?"
Have your child turn the pages of the book.
Read with a lot of expression. Let your voice reflect the tone of the story or the personalities of the characters. Don't read too fast. Vary your pace so you can pause for emphasis. Allow time for children to think about what's happening or what might come next.
Build in time for listeners to respond along the way. Allow time for children to study the pictures as you read, make comments, and ask questions about the story.
Encourage predictions: Ask children what they think will happen next. Help them confirm or revise these predictions as the story unfolds. Try to honor many ideas and interpretations, not just the "correct" ones. Instead of accepting or rejecting comments or ideas as right or wrong, use comments such as "That's one possibility, let's see what the author has in mind." or "Well that's an interesting idea. How did you think of that?"
You will read your child's favorite story over and over again. Go ahead and read the same story 100 times. It's good to repeat the story, deepen oral language, retelling skills, and comprehension. Ask questions about the story, have your child look for a specific item or picture on a page. Read a sentence and leave off the last word for your child to fill in the blank.
Be interactive, humorous and fun. Read with expression, different voices for characters or even fun accents. Model how reading is enjoyable.
Visit The West Bloomfield Township Public Library often. Get your children their own library cards, so they can learn how to check out and return books. Visit the one of the Library's many early childhood programs for entertaining, interactive storytime filled with song, dance, and finger plays.
Don't rush
. Read at a pace that allows your child to think about what he is hearing and to look at the book's illustrations.
After you've read a book
, engage your Kindergartner in a conversation about the story. Talking about the story helps develop comprehension skills and important thinking skills. The greatest gains in reading skills occur with children who are involved in discussions after reading a story. Ask your child to:
Retell the story.
Encourage your child to share mental images related to the story. For example, "How do you imagine it would feel to fly through the forest when it's dark and you can't see?"
Some very active children as well as reluctant readers may find it hard to sit and listen to a story. Try this suggestion from The Read Aloud Handbook by Jim Trelease: give your child paper, crayons and pencils and have him or her draw while you read.
Don't continue reading a book if it becomes apparent that the book was a poor choice.