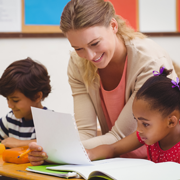 Professional Development
Early Childhood Educators,
Due to current restrictions and safety precautions, The West Bloomfield Township Public Library cannot provide in person early childhood professional development. The Library must adhere to all Executive Orders and follow federal, state and local guidelines.
Thankfully, there are many virtual professional development opportunities for early childhood educators. These organizations provide high quality professional development opportunities;
MiRegistry
,
National Association for the Education of Young Children (NAEYC)
, or
Early Childhood Investigations Webinars
. Many virtual professional development opportunities will allow you to explore new topics while enhancing your knowledge and encouraging you to create the most positive learning environment for young children.
The State of Michigan has required some changes to the early childhood professional development registration policy. In order for professional development hours to be compliant and count toward registered PD hours, all participants must create an online account at
miregistry.org
.
The registration process is quick and easy. Each individual must create his or her own account. The website has a guide on how to register, as well as how to search for a training. You can search for professional development offered at The West Bloomfield Township Public Library or in Oakland County. This website will track your professional development hours. Certificates of completion will be available in your online profile after your training attendance is verified; paper certificates will no longer be distributed. If you have any questions about registration, please contact
Miregistry
Thank you,
Emily Vickers
Early Childhood Specialist
West Bloomfield Township Public Library
vickerse@wblib.org
248-232-2263