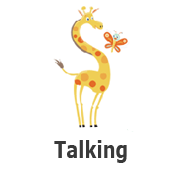 Talking Activities
Talk with your baby about your daily routine and what you see or hear around your house. Describe your actions, where you are going and what you are doing. Talking with and to your baby builds vocabulary, oral language and conversation skills.
Have a back and forth conversation with your baby even though they may not talk back. Ask questions, make observations and give the baby frequent face-to-face time. This helps build conversation skills as well as bonding time with an adult.
Show pictures of family and friends and talk about them. "Oh look, here's a picture of grandpa, he lives in Arizona. He's coming to visit soon."