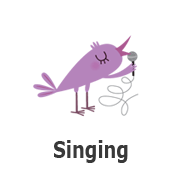 Singing Activities
Sing and use instruments such as a rattle or shaker while you sing. This will encourage the baby to follow the beat and rhythm. Rhythm helps your baby learn important sounds and patterns useful for future reading skills. Most importantly, it is fun and will keep your baby's attention.
Nursery rhymes are a great way to incorporate rhyme and song together. Music includes rhythm and rhyme, which is part of our everyday language. Eventually, babies will recognize rhymes and rhythms.
Use props while singing songs. If you sing, Five Little Monkeys Jumping on the Bed, use a stuffed monkey (any stuffed animal will work) to act out the fingerplay. Fingerplays and nursery rhymes provide great opportunities to combine language and fine motor skills.
While singing a song, use different voices. The Itsy-Bitsy Spider is a great song to use different voices, try singing the song as a great big spider with a deeper, louder voice or the teeny, tiny spider with a high quiet voice.