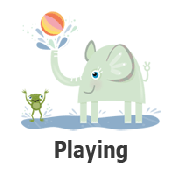 Playing Activities
Don't forget tummy time. Have your baby spend time on their tummy. Tummy time develops the baby's neck and upper-body muscles for improved head control. These skills develop hand eye coordination, build core muscles in your baby's neck, back and trunk as well as develop fine and gross motor skills. These skills are necessary for future learning and reading skills.
Play outside every day. Outside is a great place to play as well as encourage conversation and literacy skills. Go for a walk and talk about what you see. Outdoor time will encourage observation, conversation and motor skills.
Use bubbles for a fun, interactive game between baby and adult. Pop, count, chase and sing songs to the bubbles. Bubbles provide endless amounts of fun! Try blowing bubbles outside during the winter to see what happens.